SSRS Installation
SQL Server Reporting Services (SSRS) is a server based scalable and extensible platform for authoring, deploying, executing and managing reports based on a variety of data sources.
When running the SSRS installation, you will need to install the Database Engine and SQL Server Reporting Services in Native mode. It is easier to install both services at one time, because you can choose to have the installation process configure the SSRS services for you. If SSRS is installed later, or if you select not to configure it at installation, you will have to configure it manually. During installation, be sure to select these features:
If you want to enrich your career and become a professional in SSRS, then visit Tekslate - a global online training platform: "SSRS Training" This course will help you to achieve excellence in this domain.
Database Engine
SQL Server Reporting Services – Native (if installing 2008 R2, you'll be asked on a subsequent screen to select the mode)
Management Tools – Basic
Management Tools – Complete
Business Intelligence Development Tools or SQL Server Data Tools if available with the media you are using, which is dependent on the version
If given the choice, select Install and Configure.
SSRS Development Tools
Business Intelligence Development Studio (BIDS) as the SSRS development tool. However, starting with SQL Server 2012, you will use SQL Server Data Tools – Business Intelligence (SSDT-BI), which may or may not be on the SQL Server media, depending on the version. Each tool runs as an add-in for Visual Studio. If you do not have Visual Studio in place, the BIDS or SSDT-BI installation will install a Visual Studio shell.
The following table should help you navigate the options, understand the differences, and find the correct process for installing the development tool for your version of SQL Server.
SSRS configuration
If you were unable to let the installation process configure SSRS for you, or are installing SSRS after the initial engine installation, or maybe you decided to configure SSRS on your own for fun, you will need to launch the Reporting Services Configuration Manager.
As discussed, we need to associate SSRS with a SQL Server instance, where it can create the reporting databases (ReportServer and ReportSereverTempdb). When prompted, select the instance name and click Connect.
On the next screen, select the Database page on the left menu and click Change Database.
Select Create a new report server database and click Next. Enter the name of the SQL Server instance where you wish to create the reporting databases and click Next.
On the following screen, we configure the report databases. We can choose a different name from the default ofReportServer, if desired, but only do so if you have a good reason such as multiple instances of Reporting Services on the same server.
Continue clicking though the wizard and complete it. Once done, we need to configure the Report Server Web Service, so click the Web Service URL link.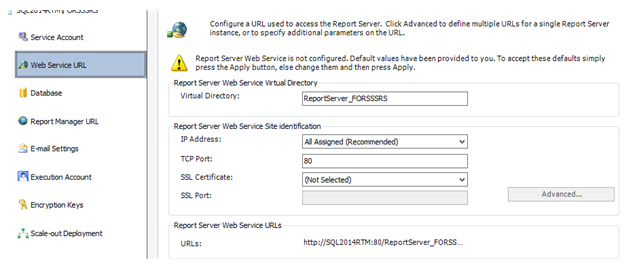 Accept the defaults and click Apply. Finally, we need to configure Report Manager, so click the Report Manager URL link. Again, accept the defaults and click Apply.
For indepth understanding click on