Welcome to Dell Boomi Tutorial. The objective of these tutorials is to provide an in-depth understanding of the Boomi platform and how it can be used on different premises.
In addition to the free Dell Boomi Tutorial, we will cover common interview questions, issues, and how-to of Dell Boomi.
Introduction to Dell Boomi
Dell Boomi AtomSphere is an on-demand multi-tenant cloud integration platform for connecting cloud and on-premises applications and data. The platform enables customers to design cloud-based integration processes called Atoms and transfer data between cloud and on-premises applications.
Common business processes Dell Boomi AtomSphere automates across NetSuite and other applications include:
EDI / B2B (manufacturing, distribution, supply chain management)
Human Capital Management (hire-to-retire, HR, payroll, expense management)
eCommerce and Retail
Professional Services Automation
CRM (lead-to-cash, quote-to-cash) Billing
Marketing automation
If you want to enrich your career and become a professional in Dell Boomi, then visit Tekslate - a global online training platform: "Dell Boomi Training" This course will help you to achieve excellence in this domain.
The Architecture of Dell Boomi
Atom At the lowest level of Boomi's architecture is the Atom. This is a single-tenant, single node runtime engine. It contains all of the components (connectors, transformation rules, business/processing logic) required to execute processes. it is lightweight and can be installed to a local machine or virtual machine in the cloud.



When Atoms are clustered together they form a Molecule. This is a single-tenant, multiple-node clustered Atom that allows for multiple processes to run concurrently. It is the enterprise-grade version of an Atom that can be deployed across multiple servers to enhance load balancing and ensure high availability for mission-critical integration processes.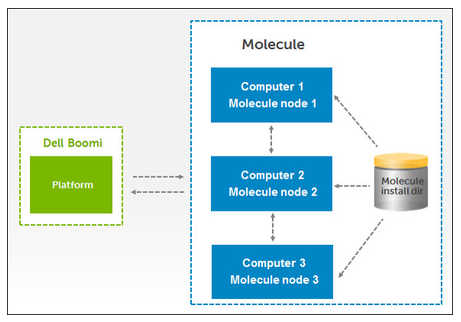 Dell Boomi has a proven, tenant-isolation implementation that achieves isolation at a process, data, and management level by:
Assigning a unique identifier to each account and tagging all objects associated with the account with this ID.
Using roles and permissions to control access to account objects and management functions.
Encapsulating all integration workflow, transformation rules, business logic validations, and connector operations as metadata bound to a specific customer account.
Deploying workflow configuration metadata to an Atom, which acts on it to perform the execution of an integration process.
Advantages of Dell Boomi
Dell Boomi AtomSphere enables the quick and easy integration of any combination of cloud, Saas, or on-premises applications with no appliances, no software, and no coding. Companies of all sizes are benefiting from this and realizing:
Faster time to market / ROI
Greater data integrity
Competitive advantages
NetSuite's powerful platform often serves as the business "hub" for an organization. Integrating NetSuite with other business applications yields a number of compelling benefits, including:
Allows for a single, 360-degree view of customers and their activity
Improves data quality by reducing manual data re-entry & its inherent risks
Transfers data bi-directionally to keep multiple systems in sync
Automates business processes for greater efficiency
Maximizes your NetSuite investment while leveraging your existing application infrastructure.