Resource Pool
A resource pool is a logical abstraction for flexible management of resources. Resource pools can be grouped into hierarchies and used to hierarchically partition available CPU and memory resources.
Resource pools allow you to delegate control over resources of a host (or a cluster), but the benefits are evident when you use resource pools to compartmentalize all resources in a cluster.
Benefits:-
-Flexible hierarchical organization
-Isolation between pools, sharing within pools
-Access control and delegation
-Separation of resources from hardware
-Management of sets of virtual machines running a multi tier service
Desired to gain proficiency on VMware? Explore the blog post on VMware training Online to become a pro in VMware.
Schedule Tasks : Schedule a task to power on the virtual Machine at particular instance of time. Right Click on Blank space , select the option New Scheduled Task
Select the Option Change the VM Power state.
Select the option Power on , check below option and click on Next.
Select the host , Click on Next.
Enter the Task Name, select Frequency , Check the option Later and provide time , check on Next .
Click on Next
Click on Finish.
Here we can Observe Scheduling Task
Here We can Observe that the virtual Machine is Powered on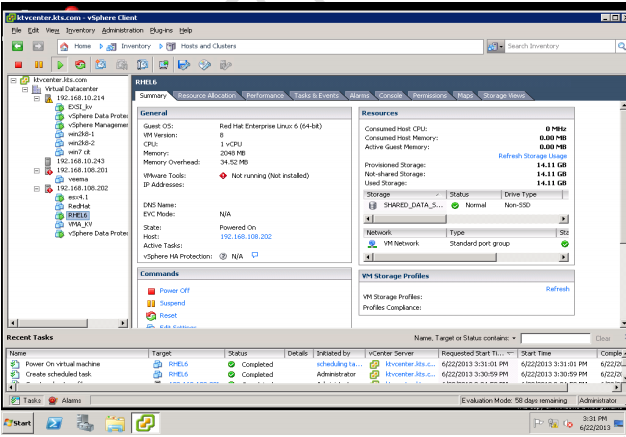 Alarms :-
Click on Any Object of Inventory , go to Alarms Tab
Right Click on Free Space , Select the option New Alarm.
Enter the alarm name, check the option Enable alarm.
Click on Triggers , click on Add
Click on Ok.
Here We can Observe New Alarm is created.
You might like