Access Control
How to Restart Vpxa Agent? Click on the host, go to configuration, go to security Profile, click on Properties (services)
Select Vpxa agent, click on the option, click on restart.
Click on firewall Properties, check the option ssh client.
Check the option Only allow connection from the following networks and enter the IP address, click on ok.
Here we can observe the IP address of the machine.
Open the Putty section and type the host IP address click on open.
Here we can observe that we are able to log in through putty.
How to enable lockdown mode? Click on Host, go to the configuration tab, select the security profile, select the option edit.
Check the option enable lockdown mode, click on ok.



At TekSlate, we offer resources that help you in learning various IT courses.

We avail of both written material and demo video tutorials.

To gain in-depth knowledge and be on par with practical experience, then explore "

VMware Training

" Videos.
The access control system allows the vCenter Server administrator to define a user's privileges to access objects in the inventory. Key concepts:
-Privilege – Defines an action that can be performed
-Role – A set of privileges
-Object – The target of the action
-User/group – Indicates who can perform the action
Altogether, a role, a user or group, and an object define permission How to Add Permission at Data Center Level? Right, Click on Datacenter, select the option Add permissions.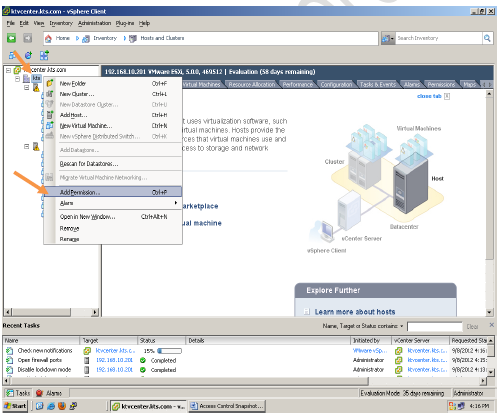 Select the domain as KTS, select user and click on ok.
Select the role to user, click on ok
Adding Read-only Permission at the host level to a particular user? Right-click on the host, select the option to add permission.
Select the domain & user and click on ok
Here we can observe user login into server.
For an in-depth understanding of VMware click on: