Oracle Business Intelligence System Logical Architecture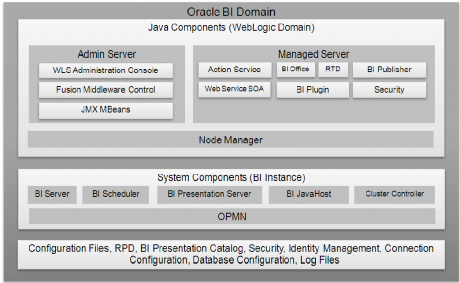 OBIEE 11.x components
Oracle BI Server :
This component provides the query and data access capabilities at the heart of Oracle Business Intelligence and provides services for accessing and managing the enterprise semantic model (stored in a file with a .RPD extension).
At TekSlate, we offer resources that help you in learning various IT courses. We avail of both written material and demo video tutorials. To gain in-depth knowledge and be on par with practical experience, then explore "OBIEE Training"
Oracle BI Presentation Services:
This component provides the framework and interfaces for the presentation of business intelligence data to Web clients. It maintains an Oracle BI Presentation Catalog service on the file system for the customization of this presentation framework.
Oracle BI Scheduler:
This component provides extensible scheduling for analyses to be delivered to users at specified times. (Oracle BI Publisher has its own scheduler.)
Oracle BI JavaHost:
This component provides component services that enable Oracle BI Presentation Services to support various components such as Java tasks for Oracle BI Scheduler, Oracle BI Publisher, and graph generation.
Oracle BI Cluster Controller:
These components distribute requests to the BI Server, ensuring requests are evenly load-balanced across all BI Server process instances in the BI domain
BI Domain
A BI Domain consists of Java components that are deployed into one or more Java EE (JEE) containers within a single Weblogic domain; system (non-JEE) components and processes; and required configuration files, metadata repositories, and infrastructure.
Administration Server
A JEE container that runs in a dedicated Java virtual machine that contains Java components for administering the system
Managed Server
A JEE container that runs in a dedicated Java virtual machine that provides the run-time environment for the Java-based services and applications within the system. An Oracle BI domain contains one or more Managed Servers that are distributed across one or more host computers.
Java Components
Java components are deployed as JEE applications to service SOAP, HTTP, and other forms of requests.
Node Manager
Node Manager provides process management services for the Administration Server and Managed Server processes
System Components
System components are deployed as server processes and provide the core services that enable Oracle Business Intelligence.
OPMN
OPMN (Oracle Process Manager and Notification server) maintains the Oracle Business Intelligence system component processes
Other Oracle BI Domain Contents
The Oracle BI domain also contains all the necessary software, metadata, configuration files, RPD files, Oracle BI Presentation Catalog, connection and database configuration information that are required to run an Oracle Business Intelligence system.
Oracle Business Intelligence on multiple hosts
Oracle Business Intelligence can be installed and configured on multiple hosts.
Oracle BI Java Components and System Components
Administrative Components:
Enterprise Management applications and JMX MBeans for managing all configuration and run-time settings for Oracle Business Intelligence.
Oracle BI Publisher:
This component provides an enterprise reporting solution for authoring, managing, and delivering all types of highly formatted documents to employees, customers, and suppliers
Oracle BI Office:
This component provides the integration between Oracle Business Intelligence and Microsoft Office products.
Oracle BI Action Services:
This component provides the dedicated Web services that are required by the Action Framework and that enables an administrator to manually configure which Web service directories can be browsed by users when they create actions.
Oracle Real-Time Decisions (Oracle RTD):
This component provides enterprise analytics software solutions that enable companies to make better decisions in real-time at key, high-value points in operational business processes.
Oracle BI Security Services:
This component provides dedicated Web services that enable the integration of the Oracle BI Server with the Oracle Fusion Middleware security platform.
Oracle BI SOA Services:
This component provides dedicated Web services for objects in the Oracle BI Presentation Catalog, to invoke analyses, agents, and conditions. They make it easy to invoke Oracle Business Intelligence functionality from the Business Process Execution Language (BPEL) processes.
Oracle BI Plugin:
A JEE application that routes HTTP and SOAP requests to Oracle BI Presentation Services.
Client components
Analyses :
(This area of Oracle BI EE is also known as Answers.) Analyses are queries against an organization's data that provide answers to business questions. Analyses allow you to explore and interact with information by visually presenting data in easy-to-understand formats (such as tables and graphs). You can save, organize, and share the results of analyses.
Dashboards :
(This area of Oracle BI EE is also known as Interactive Dashboards.) Dashboards provide personalized views of corporate and external information. A dashboard consists of one or more pages that contain content, such as analyses, links to Web sites, Oracle BI Publisher reports, and so on. Dashboards allow you to provide end-users with access to analytics information Filters, Selection Steps, and Prompts — Filters, selection steps, and prompts allow you to limit or specify the data that is displayed in dashboards and analyses.
Agents :
(This area of Oracle BI EE is also known as Delivers.) Agents enable you to automate your business processes. You can use agents to provide event-driven alerting, scheduled content publishing, and conditional event-driven action execution. Agents can be scheduled or can be triggered by a specific condition, which allows you to deliver timely information to users.
Conditions:
Conditions are objects that return a single Boolean value that is based on the evaluation of analysis or of a Key Performance Indicator (KPI). You use conditions to determine whether something is to be done, for example, whether an agent is to deliver its content.
Actions:
Actions provide the functionality to navigate to related content or to invoke operations, functions, or processes in external systems. You can include actions in various objects, such as analyses and dashboard pages. Actions allow users to take the proper action based on the business insight that they gained from the data that they received.
Scorecards :
(This area of Oracle BI EE is known as Oracle Scorecard and Strategy Management). Scorecards allow you to model the objectives and initiatives that comprise your corporate strategy, evaluate their performance by assigning KPIs, and determine and display overall performance.
Other Products:
Oracle BI EE interacts in various ways with other products. For example, with the Oracle Business Intelligence Add-in for Microsoft Office, you can access and run analyses from Oracle BI EE directly within your Microsoft Office workspace.
For an in-depth understanding of OBIEE click on