Logical Dimension for Time in OBIEE
1 . Use a different technique to create a logical dimension for Time. Right-click the D1 Time logical table and select Create Logical Dimension > Dimension with Level-Based Hierarchy.
2 . A new logical dimension, D1 TimeDim in this example, is automatically added to the business model.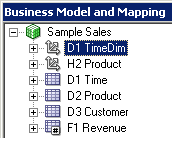 These core tutorials will help you to learn the fundamentals of OBIEE 11g. For an in-depth understanding and practical experience, explore "OBIEE 11g Training".
3 . Rename D1 TimeDim to H1 Time .
4 . Expand H1 Time. Notice that two-level were created automatically: D1 Time Total and D1 Time Detail. D1 Time Detail is populated with all of the columns from the D1 Time logical table.
5 . Rename D1 Time Total to Time Total, and rename D1 Time Detail to Time Detail.
6 . Right-click Time Detail and select New Object > Parent Level to open the Logical Level dialog box.
7 . On the General tab, name the logical level Week and check Supports rollup to a higher level of aggregation.
8 . Click OK to close the Logical Level dialog box. The Week level is added to the H1 Time logical dimension.
9 . Repeat the steps to add the remaining logical levels: Month as a parent of Week
Quarter as a parent of Month
Half as a parent of Quarter
Year as a parent of Half
Your final results should look similar to the screenshot: