SAP HANA Landscape with Business Objects
Settings at HANA system-level
HANA DB creation secure uid & pword.
Creation of HANA ODBC connection
Settings at BO Environment
ROLAP connection at BO Information Design tool layer
1 Data Replication
2.0 Persistence Layer
2.1 HANA DB (In Memory DST)
3.0 View (View Schusses)
3.1 HANA Metadata mgmt.
4.0 DDBC / TDT for BO HANA DB
5 Semantic Layer
6 Project (Domain Specification)
7 Relational conn (1-N) system/view
8 Combining one/more ROUAP Conn in BO schema.
9 Business intelligence Layer
10 Business intelligence
Inclined to build a profession as SAP HANA Developer? Then here is the blog post on, explore" SAP HANA Training "
DS in SAP HANA Landscape Need:- To do ETL based data replication
Settings at BW: If your BW system is less than 7.3 version then add DS as source system manually
Note: For the BI / BW system (7.3) version DS is already added as Source System.
Settings at DS Level: In DS Mgmt console, create a connection using RFC details DS/R3 (or) BW system
In DS Designer Create,
SAP Application Datastore
SAP BW Source DST (data store)
SAP Target (Datastore)
NON SAP ERP / DB Datastore
HANA DST
Settings at BO CMC
In BO CMC in the application (tab) select DS and encrypted file message which is given at HANA studio Create Replication jobs (using LCM (ube cycle manager ) for periodical replication)
Settings at HANA Studio Add Data Services system encrypted file message Enable replication at DS System-level
Note: We generates prefer extractors metadata to replicate from source to target
Configure the HANA Hardware whiles is provided by IBM, HP, CISCO Select storage layer either data vol or log volumes Based on storage layer select persistence layer either page mgrnt, logger mgrnt Relational engine select row store, column store or object store based on our requirement
Learn Related Articles: SAP HANA Interview Questions
We can retrieve data about the COPA module seem ECC6 through the ETL tool (Data Services)
We can retrieve data related to COPA in ECC 6 using log-based (Sybase)
We can retrieve data from NON SAP cubes using ETL (Data Services)
ERP Replication method in Three System Landscape
Trigger Based Replication
ETL Based Replication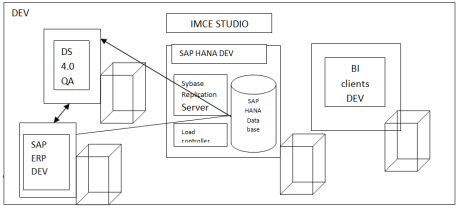 Loading Data Into SAP HANA
If the replication process is ETL based & Trigger-based then data is mapped into mapping management If it is log base replication then data is mapped into the database via logger under the supervision of transaction Manager Data Modeling
In HANA Landscape implementation, we do technical modeling (DST) and views at HANA studio. We also do business modeling using the BO information deign tool (Data Foundation and Business layers) with respective to reports & dashboards. Metadata Manager stores all the views and DST.
Reporting
We can create crystal reports, dashboards (XCelsius), Advanced Analysis, Explorer, Web. If further any modification for the report we can do changes in IDT