Introduction to SAP BW
Welcome to SAP Business Warehouse Tutorials. The objective of these tutorials is to provide an in-depth understanding of SAP Business Warehouse. In addition to free SAP Business Warehouse Tutorials, we will cover common interview questions, issues, and how to's of SAP Business Warehouse.
SAP NetWeaver Business Warehouse (SAP NetWeaver BW) or also called SAP BW in short, is the name of the Business Intelligence, analytical, reporting, and Data Warehousing solution produced by SAP.
Serving as a powerful Enterprise Data Warehouse application platform BW provides flexible reporting and analysis tools. It is a packaged, comprehensive business intelligence product centered around a data warehouse that is optimized for (but not limited to) the R/3 environment from SAP.
If you want to enrich your career and become a professional in SAP BW, then visit Tekslate - a global online training platform: "SAP BW Training" This course will help you to achieve excellence in this domain
Online Analytical Processing (OLAP) technologies enable you to perform flexible analyses from a variety of business perspectives. It is based on a multi-dimensional data model that is achieved using relational database tables.
An application example of the OLAP is the SAP Business Warehouse System. A Business Warehouse System is configured so that large quantities of historical and operative data can be formatted with acceptable response times. It comes as a valuable tool for developing data warehouses that accurately and effectively assist in critical business decision making. It facilitates easy-to-use and high-performance extraction, transfer, transformation, and loading of data from a variety of data sources, including such comprehensive business management systems as SAP R/3.
SAP BW now plays a central role in nearly every solution brought in the market by SAP. It facilitates forecasting and strategic analysis on the basis of accumulated historical data and helped in delivering better customer service with optimized business operations and improved corporate performance.
Installation of Business Content (BC) Info Object
Info Objects:
Business evaluation objects (customers. sales revenues) are known in BW as Info Objects. They are divided into characteristics, key figures, units, and time characteristics.
Info Objects are the smallest information units in BW. They structure the information needed to create data targets. InfoObjects with attributes or texts can be either a pure data-target or an Info Provider (if it is being reported).
Following are the steps to install Business Content Info Objects:
-Go to transaction RSA1. Click on the button "Business Content" on the left side frame. You will able to see the following screen.
The extreme left frame shows the different types of BC objects like Info Provider, Info Object, and Info Source, etc.
Click on the "Info Object" label on the extreme left menu.
In order to install a particular Info object, first, click on the search button on the application toolbar. Enter the name of the Info Object to be searched.
Once the required info object will be located and can be seen on the second frame, drag the Info object in the 3rd frame (Right side) Collected objects.
Repeat the step no 4, so as to collect about 10 Info objects.
Checkout Our Frequently Asked SAP BW Interview Questions
In order to install the Business Content Info Objects, Click on the Install button (In the 3rd frame extreme right frame). In order to install the objects in the background chose the option, "Install in Background"
One dialog box will be displayed for overwriting the objects.
A job will be created in the background.

You can check for the status of the job in transaction SM35
In order to check for the installation of the Info Object, go to Transaction RSD1. Give the name of the Info Object Installed and click on display.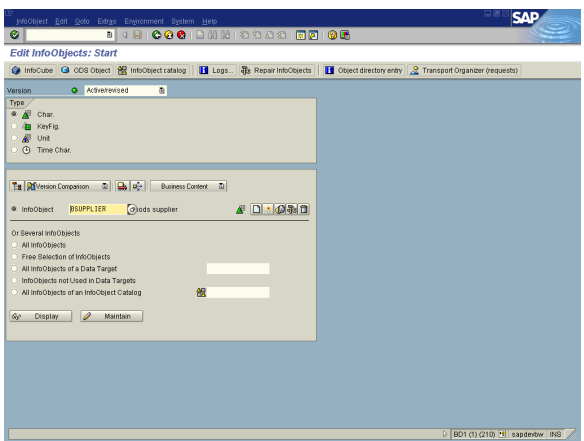 You will be able to see the Info object. Also, the last change on by will be the User Id of the person who installed the BC object.
SAP BW Architecture
SAP BW Architecture: – The following articles an overview of SAP BW architecture and how it connects to SAP Systems and Non SAP Systems. SAP BW provides a business solution for data warehousing and uses in SAP technologies. SAP Business Information warehouse is a three-tier architecture and coded by SAP ABAP programming language. SAP BW is connected to ERP SAP System and Non SAP systems by ALE and BAPI.
SAP BW architecture consists of three layers
Top Layer
Middle Layer
Bottom Layer
Top Layer of BW Architecture: The top layer of the architecture is a reporting tool and it can be a business explorer and any third-party reporting tool. Business Explorer consists of two types of components.
Browser: – Browser component acts as an information center that enables access and provides required information perusers requested.
Analyzer: – Analyzer can be a Microsoft Excel and enables the users to create queries without any coding.
Third-party reporting tools are connected to OLAP Processor by ODBO and OLE DB or OLAP provider.
Middle Layer: The middle layer of SAP BW architecture enables administrating the Business Information warehouse system, storing the data, and providing the data as per user request. The middle layer of the BW server contains the following components.
Administrator Workbench includes Scheduler and Monitor
Metadata Manager and Metadata Repository
BDS/User Roles
OLAP Processor
Info cubes/ODS Objects
Data manager
PSA
Staging Engine.
Bottom Layer: The bottom layer of SAP BW architecture consists source system of SAP system or any other non SAP system. If the source system of BW architecture is SAP then the component of plugins to be installed in the source system. This plugin consists of an extractor that contains Abap programs, database tables, and other objects that SAP BW extract the information from the SAP systems.
The middle layer of SAP BW architecture is connected to SAP systems and Non SAP systems by ALE and BAPI.
The benefits of SAP BW
SAP Business Warehouse is shipped with "Business Content". It comes with ready-made extraction routines, meta-data, InfoCubes, information models, reports, and channels that guarantee analysis and reporting capabilities out of the box.

It closes the loop as it provides seamless links to planning and execution applications that allow you to act instantly on the insight you gain to improve the performance of your business processes.

Its openness ensures that SAP BW is ideal for SAP R/3Æ and other SAP solutions but not limited to them. You can combine it easily with practically any internal or external data source, including existing data marts, with third-party reporting and analysis tools, or planning and execution applications.

The flexibility of SAP BW is that it is a ready-to-go solution but easy to adapt. You can modify or add data sources, meta-data, InfoCubes, and reports as and when you need to.