SAP Lumira
Welcome to SAP Lumira Tutorials. The objective of these tutorials is to gain an in-depth understanding of SAP HANA.SAP Lumira is known as a visual intelligence tool that is used to visualize data and create stories to provide graphical details of the data. Data is entered in Lumira as a dataset and you can apply filters, hierarchies, and columns to prepare documents. You can choose various charts like Bar charts, Pie charts, etc. to visualize the data effectively. In addition to SAP Lumira Tutorials, we will cover common interview questions and issues of SAP HANA.
SAP Lumira Introduction
SAP Lumira (formerly called SAP Visual Intelligence) is a self-service, data visualization application for business users.
SAP Lumira grew out of SAP Business Explorer, the company's previous, but more basic, self-service data visualization tool. According to SAP, the two are meant to go hand-in-hand. For example, analysts using SAP Lumira can alter data structures and correlations in whatever way they want, without the help of their IT department, then push the data back into the system so it can then be consumed by more casual users in tools like Business Explorer.
SAP Lumira can either be used in conjunction with the SAP HANA in-memory platform or without. SAP announced the general availability of SAP Lumira during the 2012 SAP Sapphire Now conference in Orlando, Florida, although it was known as SAP Visual Intelligence at the time. SAP announced that it had formally renamed the application SAP Lumira, at the following Sapphire conference in 2013.
SAP Lumira, standard edition allows you to connect to and visualize nearly any type of business data, whether it resides in various enterprise databases, the cloud, or spreadsheets. You can combine, enrich, and visualize data for immediate insights. Start making sense of all your data – go beyond static spreadsheets and basic presentations – without the complexity of traditional reporting.
With SAP Lumira, standard edition you can
Acquire and enrich spreadsheet and enterprise data, connecting to SAP BusinessObjects Universe, SAP HANA, freehand SQL, Hortonworks Sandbox, MapR Sandbox, and many other sources.

Maximize data knowledge and get the most up-to-date information without any coding or support from IT

Expand your business intelligence by merging multiple datasets into meaningful visualizations

Discover hidden insights by exploring any amount and any type of data in real-time, without sacrificing performance or security

Unify your view of the business by bringing together data from enterprise sources across all lines of business as well as personal sources on your desktop

Share data visualizations and collaborate with colleagues and business partners using SAP Lumira, the Edge edition

Explore data and get answers on the go by publishing visualizations to SAP Lumira, the Edge edition
SAP Lumira is data manipulation and visualization tool. You can connect to various data sources, select and clean data, manipulate and visualize data with a diverse offer of graphical charts and tables. SAP Lumira is installed locally and can operate on data either remotely or on locally stored datasets. The charts that are created can be saved and sent out by email. Your datasets can be published to SAP Hana, SAP Explorer, the SAP Lumira Cloud, and SAP Streamwork activities. The charts that you create in SAP Lumira are saved in documents with the file format.SViD. This is a document that contains the data source connection information, the data definition and data, and the visualizations.
SAP Lumira Overview
Basically, SAP Lumira enables business users to access, transform, and visualize data of any size in a repeatable and self-service manner. The tool emphasizes a simple user-friendly interface and creates very captivating visualizations that allow users to swiftly analyze data without the need for scripting.
SAP Lumira's drag-and-drop interface is easy to become familiar with, and with a few clicks data from multiple sources can be gathered, combined, and visualized. After the tool is installed and system access is set up, training is really not needed, but some basics by someone who knows the tool can be helpful.
SAP Lumira's capabilities include:
Maximizing business knowledge by integrating wide-scale insights and drill-down to granular details

Accelerating decision-making with immediate fact-based solutions to intricate business questions by avoiding list tables and fixed format reports. Interaction is key.

Increasing self-service data usage without increasing the workload of the IT department

Visualizing any amount of data in real-time using SAP HANA and simple deployment to mobile devices.
Create a document and acquire a dataset from a Microsoft Excel file
Click on New Document
Acquire a dataset from a universe. Create a New Document
Select Universe
Design Query.
Acquire a dataset from a database using Freehand SQL
Create a new document
Provide details
Select Source table & Write Query
Building Visualizations and Storyboards
1Manage measures in a dataset-Execute Query
Delete column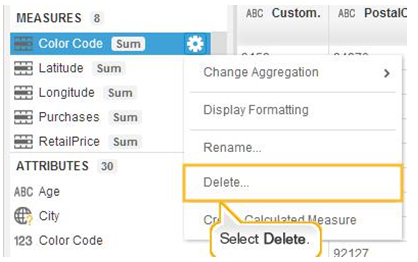 Create a measure
Sort, rank, calculate, and filter values in a visualization-Execute any Query
Select any measure & set order
Can calculate
Sharing Results
Export a dataset as a HANA-Execute Query
Create a View
Publish a dataset to SAP BusinessObjects Explorer-Create a Query & publish to Explorer
Select Folder & Click on Publish
Log on to launchpad & check your report in a folder
Features of Lumira
The key features of Lumira are as follows −
It allows you to predict future outcomes and forecast as per the changing market situations.

You can create data visualizations and stories from multiple data sources.

It helps you to adapt data to organizational needs to create stories with visualizations.

You can share the visualizations on different platforms like SAP HANA, BO Explorer, Business Objects BI Platform, etc.
Conclusion
Overall, the SAP Lumira Cloud is the best tool available in the present market that lets us analyze data and collaborate with colleagues on datasets, stories, and other business intelligence artifacts from web browsers or mobile devices
For an in-depth understanding of SAP Lumira click on.