Microsoft InfoPath 2010 helps you to design rich form solutions, even if you are a new InfoPath user. Automation and simplified workflow helps you more quickly and easily start to build simple forms. Then, design and layout improvements such as the ribbon and the new Backstage window help make it easier to find the tools to help you create attractive and effective forms, which then helps make it easier for people to fill out the forms. InfoPath 2010 also integrates more deeply with SharePoint, and provides increased feature and control support for browser forms. This helps make it easier to use the Web to gather and keep information. InfoPath 2010 auto-generates simple forms from SharePoint lists and other data sources, providing predefined page and section layout styles, design tools and Quick Rules logic tools. For advanced forms, easy steps enable you to add fields and custom logic. You can also add features such as dynamic sections and data lookup. Finished forms are published with just one click. We are going to create a simple form using InfoPath 2010 and publish the form to a SharePoint 2010 library and open the form using Web Browser 1. Open InfoPath 2010 Designer and Click on File | New | Select Blank Form | Click on Design Form
2. Blank Form Template in InfoPath 2010 is created. Now I want to insert tables
3. Click on Insert tab and select the table format which you want
4. Adding control to InfoPath 2010 Forms To add controls to your form, click on HOME tab and go where it says Controls
5. If you want to add InfoPath form 2010 controls similar to InfoPath form 2007, just click on the control pane
6. Now your control pane is will look like InfoPath 2007 format.
7. Let's go and add controls to our new InfoPath 2010 forms. I added four input text fields. To go to properties of the field, just double click and name the properties
Properties of the Fields in InfoPath 2010 forms
Now the form is ready and let's goes and publish this to SharePoint 2010 Form library. Data | Form Options
InfoPath 2010 Submit Form Options:
If you want to submit the form to SharePoint Document Library, put a check in Allow users to Submit this form Other options are "Show the submit button in both the ribbon and the info tab in the InfoPath filter
Desired to gain proficiency on SharePoint? 
Explore the blog post on SharePoint training Online to become a pro in SharePoint.
If your satisfy with the entire all the options, click Ok. This will give you a message saying "You must select a data connection for Submitting data to a SharePoint document library. To create a new data connection, click ADD"
Let's go and click Add to create new data connection to SharePoint 2010 Document Library
Data Connection Wizard: This wizard helps you to specify a data connection for submitting the form to a document library on SharePoint site. The form will be submitted with the file name specified below I already have created a Form Library in SharePoint 2010. If you don't have the link for the Form Library go to your SharePoint site and create a Form Library.
In File Name, I selected as name and the form will be submitted with the file name specified below
To insert File Name : Click on Fx Icon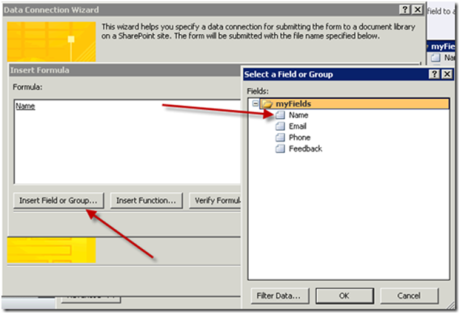 Enter a name for this data connection and click on Finish and Ok for next Window
Now the data connection to document library is completed and now we can publish the form to SharePoint 2010 To publish the form, go to File | Publish and | SharePoint Server |
Publish form to a SharePoint Library - Create or update a form library form on SharePoint - Users can access this form Online
Publishing Wizard will come up to publish the form to SharePoint Document Library. In here the wizard wants you to enter the location of your SharePoint or InfoPath Form Services site. Enter the site name which you want to publish the form and the Click Next 15. Enable this form to be filled out by using browser if you want user to fill the form online. Also we are publishing this form to a document library
What do you want to do? - Create a new form library or Update the form template in an existing from library.
Since I already have a form library created, I am going to update my form template in an existing form library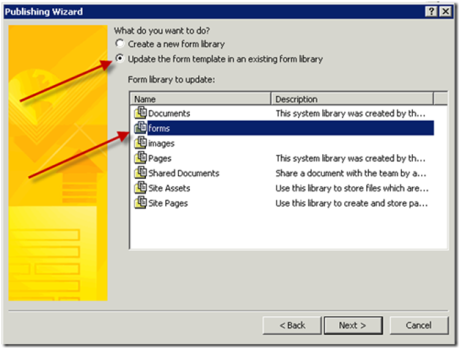 The files listed below will be available as columns in SharePoint sites and Outlook Folder. Go head and select the fields which you want to capture.
Click next and publish the InfoPath form to SharePoint 2010 Library
Form is published to SharePoint and click on open in form in the Browser
InfoPath Form opens in browser and it's ready to be filled and submit to form library.
Form filed information are captured in Form Library in SharePoint 2010

For Indepth understanding of SharePoint click on