SAP Business Object with Mobile
The SAP BusinessObjects Mobile platform provides you with access to Business Intelligence (BI) content on your mobile devices (iPhone, iPad, Android, and Blackberry).
The diagram below shows Mobile Installation on top of the BusinessObjects Enterprise Framework
And the Business Objects Mobile Architecture will be like
Three deployment scenarios are supported for SAP Business Objects Mobile. You can choose to deploy based on your User community.
BlackBerry devices registered on a corporate BlackBerry Enterprise Server (BES) Non-BlackBerry devices and/or BlackBerry devices not registered on a corporate BES. This requires a proxy server or firewall to ensure security.
The user population includes BlackBerry devices registered on the BES and other devices. This requires a BES and a proxy server or firewall.
Based on the above deployment scenarios the common architecture of BO Mobile would be like server-side requirements The following components need to be deployed on top of SAP BusinessObjects Enterprise Installation.
The Mobile server is composed of an authentication server (VAS) and a processing server (VMS).
A mobile database that logs the user activity and provides information on the synchronization of data between the SAP Business Objects Enterprise server and the mobile devices.
A BlackBerry Enterprise Server (BES), if you are deploying the application to BlackBerry device users (Deployment type 1).
A proxy server, if your deployment to BlackBerry devices does not include a BES server or if your deployment includes non-BlackBerry devices (Deployment types 2 and 3).
To deploy client applications to devices through OTA provisioning, you need to install and deploy the OTA web application, delivered with SAP Business Objects mobile, on a web application server.
If you want to enrich your career and become a professional in SAP BO, then visit Tekslate - a global online training platform: "SAP BO Training" This course will help you to achieve excellence in this domain.
Client-side requirements
Based on the deployment scenario, SAP Business Objects mobile application can be delivered to users via
Over-The-Air to BlackBerry devices using the push capability in the BlackBerry Enterprise Server.
Over-The-Air (OTA) via a secured website page. This requires you to deploy the OTA web application delivered with -SAP BusinessObjects Mobile to a secured web application server. Manually on each device using the client desktop application supplied by the device manufacturer.
BO Mobile Configuration
Environment & Product versions used:
Operating System: Windows Server 2008 R2
BOE XI4.0 with BOBJ MOBILE XI4.0
BlackBerry Email & MDS Simulator
BlackBerry Device simulator
The BO Mobile server was installed on the same machine that hosted the BOE server.
The BlackBerry Email MDS Simulator & BlackBerry device simulator are also Installed on the same machine. This architecture is depicted as below.
Installed Components and CCM:
The business objects mobile works only on the Tomcat server.
SAP BusinessObjects BI4.0 ‐ installation
After downloading the BI4 installation files from service.sap.com, check the files. There must be 5 installation files:
Step 1: Click on the first file, and create a directory to extract all installation files. After extraction, you can start the setup and select your language: "C:Software51040831DATA_UNITSBusinessObjectsServer_winsetup.exe".
Step 2: Check that all requirements have the status "Succeeded". Click Next and accept the license agreement.
Step 3: Please insert your license key. A temporary license key can be downloaded from service.sap.com
Step 4: Select your language. Click Next.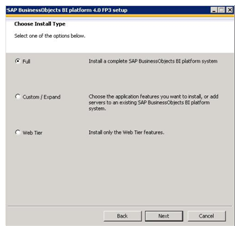 Step 5: Select the option "Full" for a complete installation. Click Next.
Step 6: Choose your destination folder. The standard directory is "C: Program Files (x86)SAP BusinessObjects". Click Next.
Step 7: Select the first option, we want to use the standard database delivered with SAP BusinessObjects BI4.0. Click Next.
Step 8: Because we don't have an application server, we need to install Tomcat. Select the first option and click Next.
Step 9: Select the first option "Install and use Subversion". Click Next
Step 10: For a standard installation, I select the proposed values. The node name is the name of your
computer. Click Next.
Step 11: Select the standard port 6400. Click Next.
Step 12: Define passwords for the Administrator account and the CMS Cluster Key. Remember your passwords!!! Click Next.
Step 13: Create passwords for the SQL server administrator and de-be user account. I use the same passwords for all. Click Next.
Step 14: Define the standard ports. Remember that port 8080 sometimes will be used for a proxy port! Click Next
Step 15: Use de default values. Click Next.
Step 16: Use the default port and create a password for the LCM repository. Click Next.
Step 17: Do not configure the connectivity to the SMD agent. Click Next.
Step 18: Use the default option. Click Next.
Step 19: Now the installation progress can be started. Confirm this screen by clicking Next and the installation will start. This process can take one or two hours. Please have patience
Step 20: 50 minutes later… installation has finished. Please read the post-installation steps and click Next and Finish.
Step 21: A new map with the name "SAP BusinessObjects BI platform 4" is created in the start menu. From these shortcuts, you can start the Central Management Console and the BI Launchpad. Please test these shortcuts.
For in-depth understanding click on