Join
Join needs Same key Column Name When we join 2 tables For ex:-EMP and Dept In join, While mapping If Join type = Inner/left outer join, then Dept no while joining comes from left

If join type = right outer join, then deptno comes from right

If join type = full outer join, then deptno comes from both left and right If join type = Right outer join , then Dept no comes from Right Note :- Full outer join Can take only 2 inputs, that is it can't join any 3 rd table
Job1 :- Join
Join Key = Dept no Options Join type = InneràOutput

Do Mapping Join type = Inner / left outer/Right outer/ fullouter Output EMP No E Name Job Mgr Hire date Sal Comm Dept no D Name loc
Job2 : If Column Names are Different use an copy operator
Oracle 0 Load EMP table oracle 1 Load EMP table

columns

Stage any columns Name Copy :- Output

Columns

Change the column Name Join Key = EMP No Join type = INNER

Output

Do Mapping Output EMP No E Name Job Mgr Hire date Sal Comm Dept no Job 3 T1 : C id, E name, d no T2:D no, D name, loc id T3:loc id , loc Name, area id T4: Area id , add1, add2 Output EID No E Name Dept no D Name loc id loc name area id add1 add2

first load T1, T2 and perform join 0 key = dno

Now ,load T3 and perform join1, key =load

load T4 and perform join 2 key = area id

Compile and Run Output :- Area id , add1,add2,loc id , loc name, d no, d name , c id , e name job 4 If we have 2 tables with same structure and same column Names E1
| | | |
| --- | --- | --- |
| E id | E name | Add |
| 11 | A | HYD |
| 22 | B | SEC |
E2
| | | |
| --- | --- | --- |
| E id | E name | Add |
| 11 | A | DEL |
| 22 | B | GNT |
Output A A HYD DEL B B SEC GNT change the column Name in any one of the table using copy operator with out changing key column name
Copy Output

Do mapping

Columns

Change E name to E name 1 Join Key = c id

Do mapping Output
| | | | | |
| --- | --- | --- | --- | --- |
| E id | E name | Add | E name | Add |
| 11 | A | HYD | A | DEL |
| 22 | B | SEC | B | GNT |
changing the column Name without using copy operator
Load EMP1, EMP2

Select Read Method = user defined SQL= Select EMP no, E name, as E name , job as job 1, mgr as magr1, hire date as Hire data1 , Sal as Sal1, comm. As comm. From EMP

columns

change Names Here also Output E id E name job mgr E name 1 job 1 mgr 1 …….. job 5 :- 2 Tables with out key dependency EMP E id E name Add 11 A HYD 22 B SEC SRC SRC- Name TBL – Name Kindle CRM – CUST

Create an column for key dependency using column Generator.

Create a new column ,in both the column generator Column generate = Dummy Algorithm = cycle Value = 1 Output E id E name Add Src - Name TABLE – Names 11 A HYD Kindle CRM – CUST 22 B SEC kindle CRM – CUST
Aspired to become an DataStage? Explore the post to discover the know-hows on DataStage Training.
Merge It has two Modes
Keep (left outer join)
Drop (inner join)
Master table :- (Stable info) Stable

which are not changes frequently. P id, prd. Desc, prd -manuf 11, Linux, Tata 22, Santoor, Wipro 33, Wipro, unilever 44, Margo, unilever up date 1 P id, prd – age , prd – price 11, 4, 87 22, 2, 42 55, 1, 35 66, 7, 90 update 2 :- Pid, prd – supplier, prd – Category 11, hind, health 33, Tata, Nutri 77, Bagan , Health 88, recom, Home job 1
Merge
Key = p id Sort order = Ascending Options Un matched master mode = Drop / keep Warn on Reject updates = True Warn on un matched master = True Click on the link ordering Output

Do mapping Output Data set 0:
| | | | | | | |
| --- | --- | --- | --- | --- | --- | --- |
| PID | Prod_desc | Prod_manuf | Prd_age | prdprice | Prd_supplier | Prd catagory |
| 11 | Lux | TATA | 4 | 87 | Hind | health |
| 22 | Samtoor | Wipro | 2 | 42 | | |
| 33 | wipro | Uniliver | 0 | 0 | tata | utri |
Dataset1
| | | |
| --- | --- | --- |
| Pid | Prd age | Prd price |
| 55 | 1 | 35 |
| 66 | 7 | 90 |
Dataset 2
| | | |
| --- | --- | --- |
| pid | Prd supplier | Prd cat |
| 77 | bagan | health |
| 99 | Re com | Home |
De- Duplication :- (Removing Duplicate records) C id E name 11, a 11, b 22, c 11, d 33, u 22, n 33, i 11, t 22, l
Different ways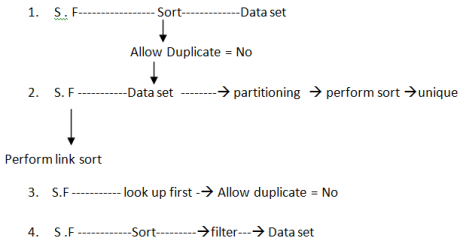 Remove Duplicates
Sorted Data
E id E name 11 a 11 b 11 d 22 b 22 n 22 l 33 i 33 u
Remove Duplicate is a stage which supports 1 input and 1 output
Used to remove duplicate
Expects only Sorted data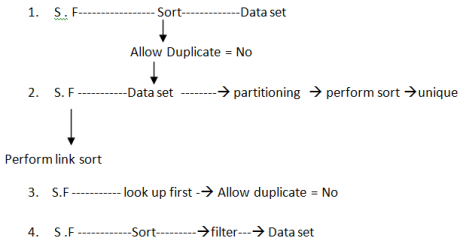 Output E id , E name 11, a 22, b 33, i Aggregator Aggregator is a processing Stage which works on groups and perform counting and calculations supports 1 input and 1 output. (a) job :- Need to find the no .of duplicates
Aggregate type = Count rows Count output column = dept . count
Options
Allow Null output = false Method = hash

output

Do Mapping Output E id dept – count 11 3 22 3 33 2 (b) fork join :-
Copy
Output

Do mapping for job, Aggregator Aggregator Group = c id Aggregation type = Count Rows Count output column = dept – count

output

Do mapping Join Key = c id

output

Do mapping output
| | | |
| --- | --- | --- |
| cid | cname | Dept_count |
| 11 | A | 3 |
| 11 | B | 3 |
| 11 | D | 3 |
| 22 | B | 3 |
| 22 | N | 3 |
| 22 | L | 3 |
| 33 | I | 2 |
| 33 | u | 2 |
job
Aggregation Type = calculation Column for calculation = Sal Maximum value output column = MAX Sal Minimum value output column = MIN Sal SUM output column = total

output

DO mapping Output
| | | | |
| --- | --- | --- | --- |
| Dept No | Max Sal | Min Sal | total |
| 10 | 25000 | 21300 | 68750 |
| 20 | 23000 | 20800 | 110875 |
| 30 | 22850 | 20950 | 129400 |
job
Copy :- output

Do Mapping Aggregator Group = dept no Aggregation Type = Calculation Column for calculation = Sal =Max Sal = Min Sal = tat Sal output Do mapping Column generator Column to generate = company

Mapping

Value = IBM Aggregator 1 Group = Company Column for calculation = Sal = Max Sal Output

Mapping Output Data set 1 Company Max Sa IBM 25000 job

All the Employee details of an particular dept no. should be display Copy :- output

Do Mapping Aggregator Group = dept no Aggregation Type = Calculation Column for calculation = Sal =Max Sal = Min Sal = tat Sal Join Key = e id

output

DO mapping Remove Duplicates Key = c id

Duplicate to Retain = first

Output

Do Mapping For indepth understanding of DataStage click on